Vacuum Circuit Breaker (VCB) – Principle, Construction and Working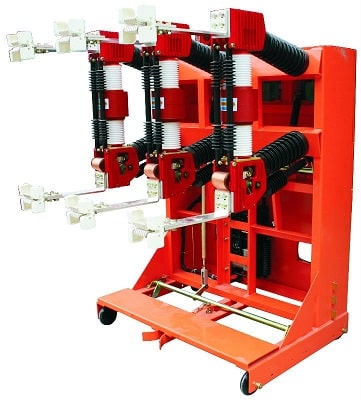 The arc shield prevents the deterioration of the internal dielectric strength by preventing metallic vapors from falling on the inside surface of the outer insulating cover. 
Vacuum Interrupter
The interruption of arc in a Vacuum Circuit Breaker is carried out by the vacuum interrupters.
Working of Vacuum Circuit Breaker
Nowadays, vacuum circuit breakers applications to not only medium voltage power systems but also in high voltage substations or transmission systems.
It is because of VCB's extremely advantageous characteristics such as high interruption capability, long operation life, safety and high cost-performance.
Based on the applications of these supreme characteristics, many promising new products are being continuously developed, so far and from now on.
In the recent years, vacuum circuit breakers got developed a lot and are used in various fields which are discussed in this section.
1. High Voltage Application
After Kyoto Protocol in 1997, SF6 gas is considered to be one of major global warming gases.
Since then a vacuum circuit breaker has become a most probable candidate of the potential equipment replacing SF6 gas circuit breakers.
Since it can interrupts a current in a vacuum without producing any special harmful gas to the environment, and it is also consisted of an ordinal ceramic or glass, and metallic components, a vacuum circuit breaker is considered a more desirable circuit breaker than SF6 one.
Therefore, the increment of its application voltage to higher one to replace SF6 type circuit breakers is desired.
2. DC circuit breaker for other applications
VCB is considered to be suitable for a DC current interruption, because VCB can interrupt under very high di/dt-dv/dt conditions and once a high frequency current is superposed on the DC current, it can interrupt a DC current very easily.
This means that the vacuum interrupter is easy to operate in very high frequency conditions, and as the result, we can design the DC circuit breaker in very small size.