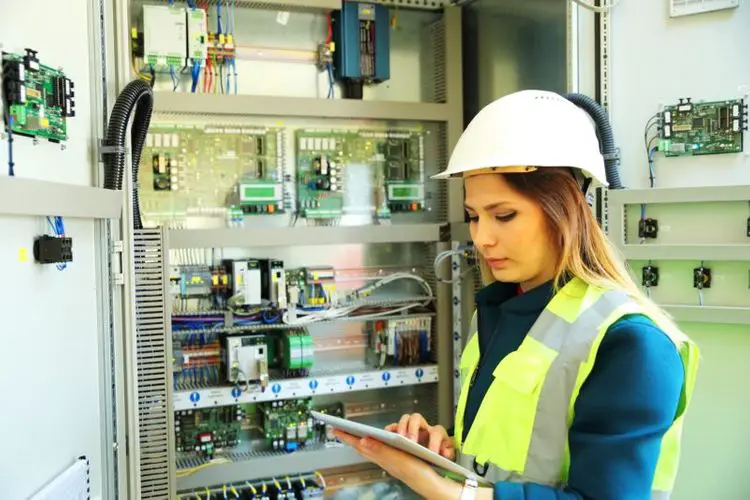 What Jobs Electrical Engineers Do? | Roles and Responsibilities
Are you an electrical engineer searching for a job now? Thinking of what to do next? 
Have you ever thought about what jobs you can do after your graduation? If you have these questions in your mind, then this article is for you. Keep reading.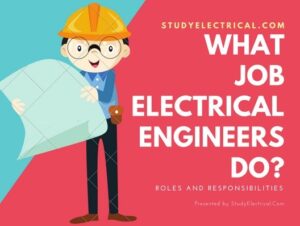 In this article I will list some of the common job roles and responsibilities handled by electrical engineers all over the world. 
After going through this article you will get a clear idea about the various roles handled by electrical engineers in the industry. Also read how to become an electrical engineer.
Any electrical or technical organization is made up of a group of individuals with various duties. All working together for their own good, the good of their employer and their customers. 
Here is the list of some of those common jobs an electrical engineer can do.
1. Design Engineer
2. Estimator / Cost Engineer
3. Contracts Manager
4. Project manager
5. Service manager
6. Technician
7. Licensed Electrician
8. Supervisor / Foreman
9. Operative or skilled operative
10. Mechanic / Fitter
11. Maintenance Manager / Engineer 
There is often no clear distinction between the duties of the individual employees, each do some of the others work activities.
Responsibilities vary, even by people holding the same job title and some individuals hold more than one job title. However, let us look at some of the roles and responsibilities of those electrical engineers working in the electrotechnical industry.
1. Design Engineer : Roles and Responsibilities
The design engineer will normally meet with clients and other trade professionals to interpret the customer's requirements.
He or she will produce the design specification which enables the cost of the project to be estimated.
 2. Estimator / Cost Engineer
This person measures the quantities of labor and material necessary to complete the electrical project using the plans and specifications for the project.

From these calculations and the company's fixed costs, a project cost can be agreed.
 3. Contracts Manager
Contracts manager may oversee a number of electrical contracts on different sites
A contract manager will monitor progress in consultation with the project manager on behalf of the electrical companies.
They cost out variations to the initial contract.
Contract managers may have health and safety responsibilities because he or she has an overview of all company employees and contracts in progress
 4. Project manager
Project manager is responsible for the day-to-day management of one specific contract.
He/She will have overall responsibility on that site for the whole electrical installation.
Project manager attends site meetings with other trades as the representative of the electrical contractor.
 5. Service manager
Service manager monitors the quality of the service delivered under the terms of the contractor
He/She checks that the contract targets are being met.
All Service managers checks that the customer is satisfied with all aspects of the project.
The Service Manager's focus is customer specific while the Project Manager's focus is job specific.
 6. Technician
A technician will be more office based than site based
He/She will carry out surveys of electrical systems
update electrical drawings
obtain quotations from suppliers
He maintain records such as ISO 9000 quality systems.
carry out testing inspections and commissioning of electrical installation
7. Supervisor / Foreman
This person will probably be a mature electrician
have responsibility for small contracts
have responsibility for a small part of a large contract
be the leader of a small team (e.g. electrician and trainee) installing electrical systems.
8. Licensed Electrician
Licensed Electricians work on electrical equipment and in homes, factories, businesses and buildings, both existing and under construction.
Install , repair and maintain power, lighting, communications and control systems
9. Operative or skilled operative
This person will carry out the electrical work under the direction and guidance of a supervisor
will demonstrate a high degree of skill and competence in electrical work
will have, or be working towards, a recognized electrical qualification and status as an electrician, approved electrician or electrical technician. 
10. Mechanic / Fitter
An operative who usually has a ' core skill ' or ' basic skill ' and qualification in mechanical rather than electrical engineering
In production or process work, he or she would have responsibility for the engineering and fitting aspects of the contract while the electrician and instrumentation technician would take care of the electrical and instrumentation aspects
All three operatives must work closely in production and process work
'additional skilling' or 'multi-skilling' training produces a more flexible operative for production and process plant operations 
11. Maintenance Manager / Engineer
Maintenance Engineer is responsible for keeping the installed electrical plant and equipment working efficiently.
He takes over from the builders and contractors the responsibility of maintaining all plant equipment and systems under his or her control
This engineer might be responsible for a hospital or a commercial building, a university or college complex.
Maintenance Engineers will set up routine and preventative maintenance programmes to reduce possible future breakdowns

When faults or breakdowns do occur he or she will be responsible for the repair using the company's maintenance staff.