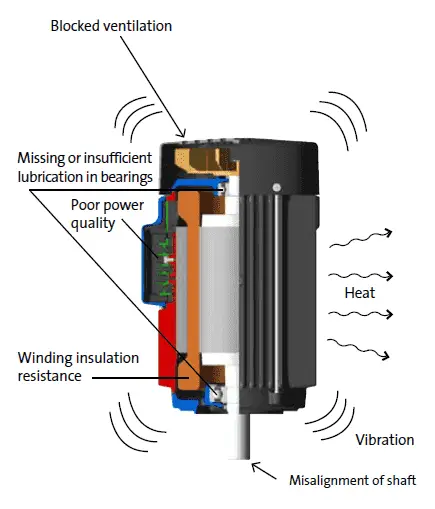 Electric Motor Maintenance : Preventive, Predictive and Reactive Maintenance
Electric Motors need maintenance regularly in order to avoid failure and prolong their lifespan. Generally, motors and motor parts should be maintained and tested at least every 6 months. 
Then only it is possible to maintain a motor's life and efficiency. We are going to deal with three kinds of maintenance: 
Preventive maintenance – to prevent operating problems and make sure that the motor continuously provides reliable operation.
Predictive maintenance  – to ensure that the right kind of maintenance is carried out at the right time.
Reactive maintenance –  to repair and replace the motor when a failure occurs.
Factors which affect the life span of the motor due to lack of maintenance is shown in the figure below,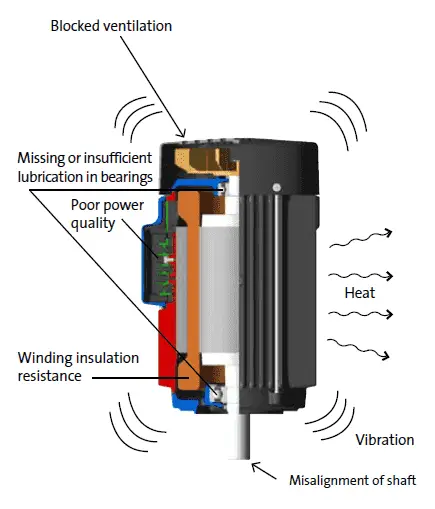 Preventive Maintenance
Preventive maintenance is electric motor maintenance that is done on a regular basis and can help prevent motors to fail and thus, prevent unexpected production stops. Some of the most important elements included in preventive maintenance are.
Motor ventilation

Humidity and condensation

Loose connections

Voltage and current imbalance

Undervoltage and overvoltage

Bearings, Bearing life, Bearing lubrication

Lubrication type, Lubrication Intervals
Predictive Maintenance
The objective of predictive maintenance of electric motor maintenance is to reduce maintenance costs by detecting problems at an early stage and deal with them.
Observations of motor temperature, vibrations, etc. are only a few examples of data that can help predict when the motor needs to be repaired or replaced. Following are some of the tests that provide the necessary data about the state of the motor.
Bearing considerations

Insulation considerations

Ground insulation test

Cleaning and drying stator windings

Surge test

High potential testing – HIPOT

DC high potential ground test

AC high potential phase to ground test and phase-to-phase test

Motor temperature

Thermographic inspection
Reactive Maintenance
When motors fail, it is important to examine the motor and find out where in the motor it happened and why it happened. Normally, good preventive maintenance can prevent failure.
If the failure is caused by a weak component or inadequate maintenance, then all similar equipment has to be examined in order to prevent the same failure from occurring elsewhere in the motor or in the entire system.