Structure of Power System and its Components Explained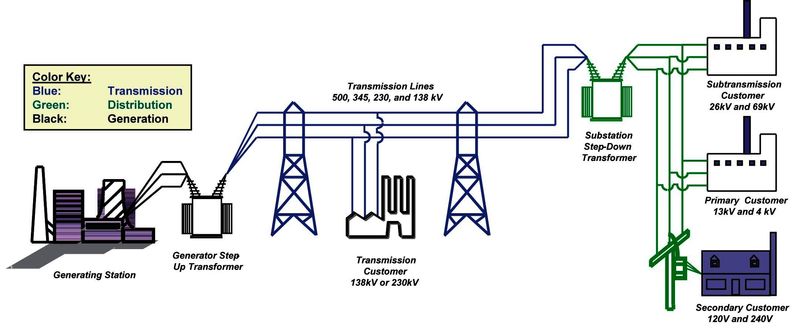 An electrical power system is made up of many components connected together to form a large, complex system that is capable of generating, transmitting and distributing electrical energy over large areas.
This article will discuss the basic structure of power system and the different components of an electrical power system.
What are the Components of a Power System?
There are mainly three components in an electric power system.
Generation
Transmission
Distribution
Generating stations and distribution systems are interfaced through transmission lines. Normally, transmission lines lead to the bulk transfer of power by high-voltage links between main load centres.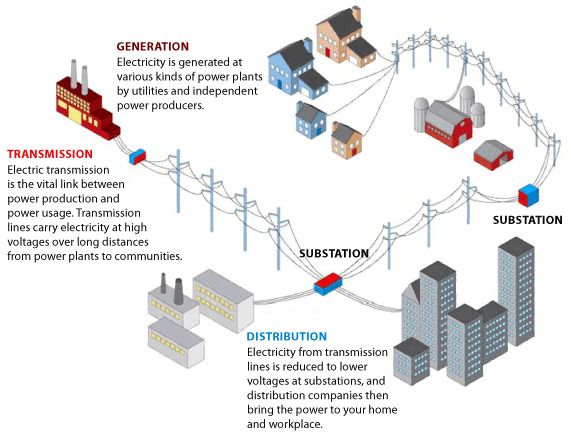 On the other hand, the distribution system is mainly responsible for the transportation of this power to the users using lower voltage networks.
Electric power is normally generated in the range of 11 kV to 25 kV, which is increased by stepped up transformers to the main transmission voltage.
At substations, the connection between various components is made, for example, lines and transformers. Switching of these components is carried out in substation.
Transmission level voltages are in the range of 66 kV to 400 kV (or larger). Large amounts of power are transmitted from the generating stations to the load centres at 220 kV or higher.
In the USA it is at 345 kV, 500 kV and 765 kV and in Britain it is at 275 kV and 400 kV.
The network formed by these types of very high voltage lines is sometimes called the super grid. This grid, in turn, feeds a sub-transmission network running at 132 kV or less.
The combined transmission and distribution network is known as the "power grid" or simply "the grid."
In India, networks operate at 132 kV, 66 kV, 33 kV, 11 kV or 6.6 kV and supply the terminal consumer feeders at 400-volt three-phase, delivering 230 volts per phase.
Basic Structure of Power System
The figure shows the schematic diagram of a power supply network.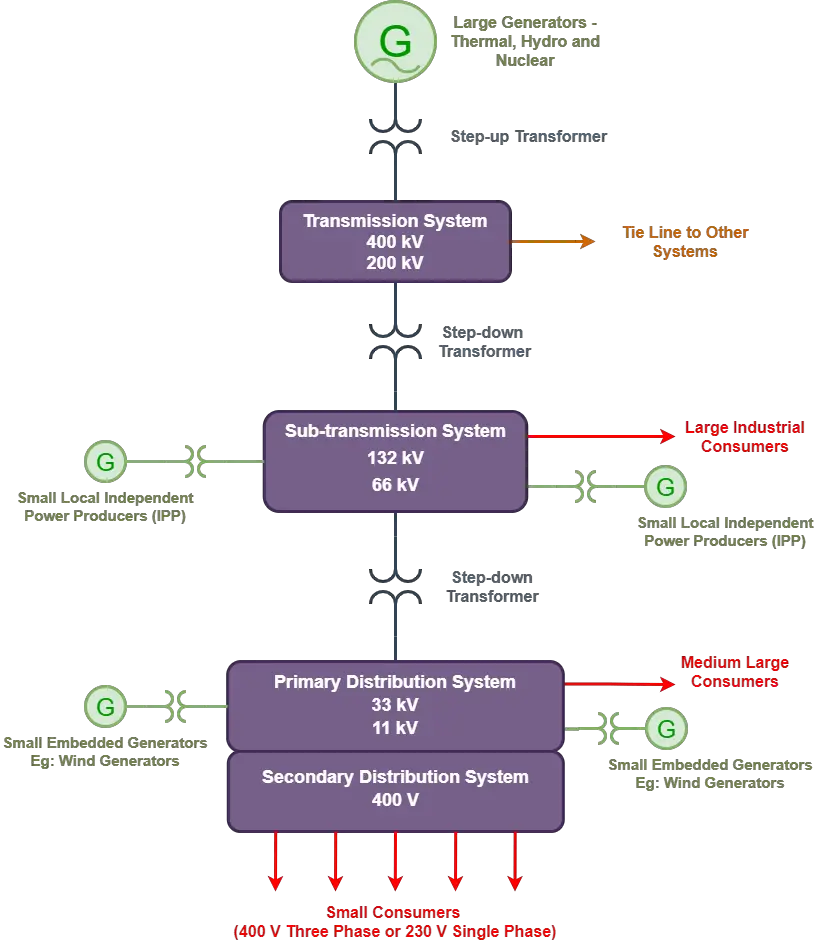 The power supply network can be divided into two parts,
Transmission system
Distribution system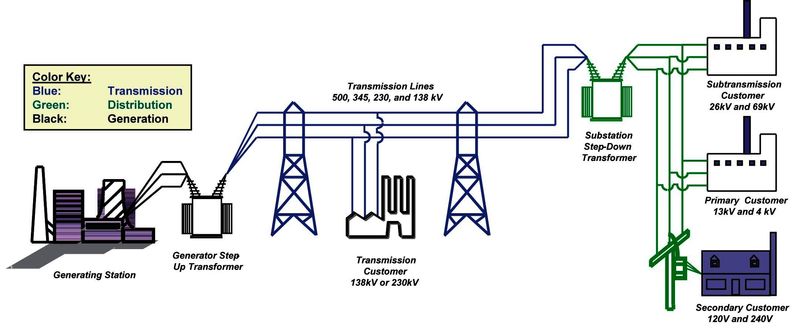 Transmission System
A power plant generates electricity at approximately 25,000 volts. Transmission lines can carry higher voltages than the plant generates – up to 765,000 V – so a transformer steps up the voltage for the transmission lines.
The transmission system may be divided into primary and secondary (sub-transmission) transmission system.
Primary transmission system
Secondary (sub-transmission) system
During the primary transmission stage a large quantity of electrical power is transferred from the initial generating station to the substation via overhead electrical lines. In some countries, underground cables are also employed just in case where transmission occurs over a smaller distance.
Electricity travels the transmission lines to a substation, at which point it is stepped down to between 4kV – 13kV. It is then sent to transmission lines emerging from this receiving station to electrical substations closer to "load centres" such as cities, villages, and urban areas. This process is known as secondary transmission.
Distribution System
The part of the power system which distributes electrical power for local use is known as the Distribution System.
The distribution system can be divided into the primary and secondary distribution system.
Primary distribution system
Secondary distribution system
The primary distribution system is that part of the electric distribution system between the distribution substation and distribution transformers. It is made up of circuits called primary feeders or distribution feeders.
Distribution line generally consist of
Feeders
Distributers
Service mains
A Feeder is a conductor which connects the substation to the area where power is to be distributed.
A distributer is a conductor from which tapings are taken from pole mounted transformer to the consumer
A service mains is generally a small cable that connects the distributor to the consumer's meter.
Most of the distribution networks run radially for less short circuit current as well as better protective coordination.
Distribution networks are different from transmission networks in many ways, quite apart from voltage magnitude.
The general structure or topology of the distribution power system is different and the number of branches and sources is much higher.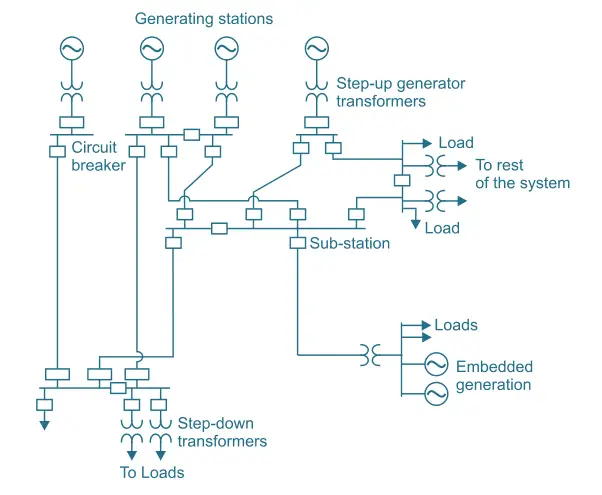 Typical Distribution System
A typical distribution system consists of a step-down transformer (e.g., 132/11 kV or 66/11 kV or 33111 kV) at a bulk supply point feeding a number of lines with varying length from a few hundred meters to several kilometres.
Several three-phase step-down transformers, e.g., 11 kV/400 V are spaced along with the feeders and from these, three-phase four-wire networks of consumers are supplied which in turn give 230 volts single-phase supply to houses and similar loads.
Figure below shows a typical distribution system.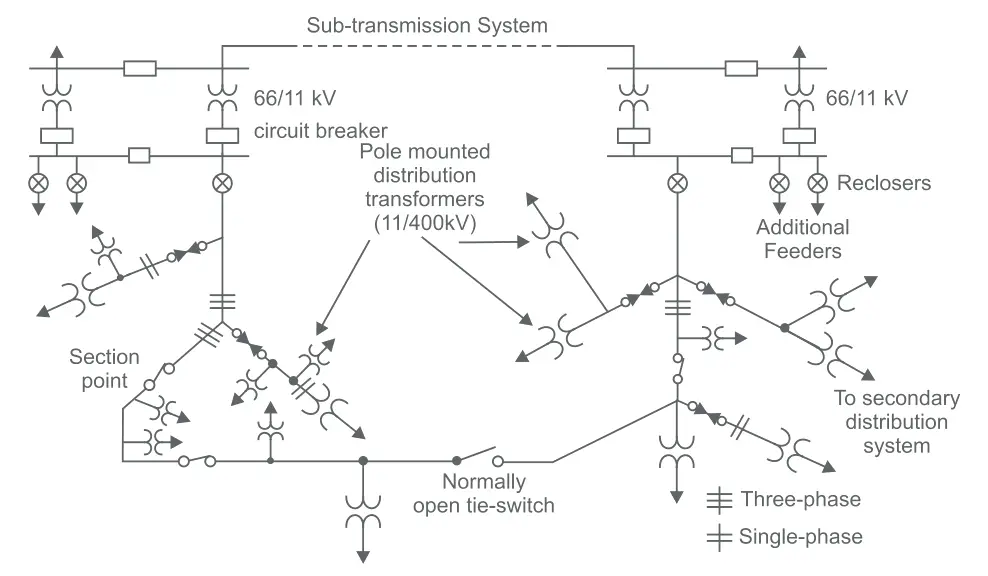 Reason of Interconnection
Generating stations and distribution systems are associated through transmission lines.
The transmission system of a selective area (e.g., state) is called a grid. Different grids are interconnected through tie-lines to form a regional grid (also called power pools). Different regional grids are further connected to form a national grid.
Cooperative assistance is one of the aimed benefits of the interconnected operation. Interconnected operation is always economical and reliable.
Generating stations having significant MW capacity are available to provide the base or intermediate load. These generating stations must be interconnected so that they feed into the general system but not into a particular load.
Economic benefit of interconnection is to reduce the reserve generation capacity in each locality.
If there is a sudden rise of load or loss of generation in one area, it is easy and convenient to loan power from adjoining interconnected areas.
To meet immediate increases in load, a specified amount of generating capacity (in each area) named the "spinning reserve" is mandated. This contains generators operating at normal speed and all set to supply power instantly.
It is always much better to keep gas turbines and hydro generators as "spinning reserve".
Gas turbines can possibly be started and loaded in 3 minutes or less. Hydro units can be even quicker.
It is more economical to have certain generating stations serving only this function than to have every station possessing its own spinning reserve.
The interconnected operation also provides the flexibility to meet unexpected emergency loads.
Types of Load in Power System
Total load demand of an area depends upon its population and the living standards of people. General nature of the load is characterized by the load factor, demand factor, diversity factor, power factor and utilization factor.
When you are learning the structure of power system, it is important to know the different types of load in power system. In general, the types of load can be divided into the following categories:
Domestic
Commercial
Industrial
Agriculture.
Domestic Load: Domestic load mainly consists of lights, fans, refrigerators, air conditioners, mixer, grinders, heaters, ovens, small pumping motors etc.
Commercial Load: Commercial load mainly consists of lighting for shops, offices, advertisements etc., fans, heating, airconditioning and many other electrical appliances used in commercial establishments such as market places, restaurants etc.
Industrial Loads: Industrial loads consists of small-scale industries, medium-scale industries, large-scale industries, heavy industries and cottage industries.
Agriculture Loads: This type of load is mainly motor pump-sets load for irrigation purposes. Load factor for this load is very small, e.g., 0.15-0.20.