What is welding cable? Where to buy cheap cable for my welding plant?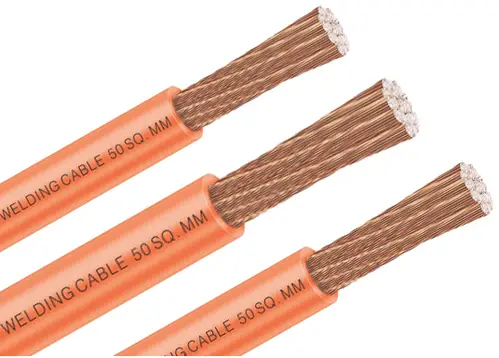 What is welding cable?
Welding cable is a single portable cord. It consists of a single conductor that is stranded finely to provide excellent flexibility. It is available in different sizes ranging from 6 AWG to 500 MCM. Sometimes, it is also known as grounding cable. A naked and strong pure copper conductor is used in the manufacturing of it that makes it flexible amazingly. It is the attribute of it which expresses its importance.
It is mostly used just because of its flexibility and durable insulation made of rubber. Consequently, it has flexibility more than all the other electrical and power cables. Different manufacturers are manufacturing their different varieties. Depending upon the material and standards used in the production of it, it is rated of -50℃ to 105℃. It is usually tested for performance using different levels of exposure to oil and grease. It is also tested to assess performance in water and cuts.
4 AWG play a key role in welding. You must consider the voltage and length of the cable. If you are using a cable length of 100 to 200 feet the power loss would be not negligible. You must consider the rate of power loss before using a certain cable for your welding plant. The cable must have a minimum power loss and fine resistance. If the cable does not have a good conductor the cable will heat up soon and it may cause a circuit break. If you want to use your welding plant reliably you must be aware of the factors that affect the performance of the welding plant.
Welding cable that has a thinner conductor and a reliable rubber jacket is considered as the best choice for the welding leads. If you are thinking about the best place to buy the best cable within your budget than zw-cable is a wise choice. zw-cable provides cables that have amazing flexibility and usability. Normally welding cables are available in red and black color. After a little research, you can find additional colors like green, blue, and yellow. The color difference is just the difference between the jacket color. Normally, the conductor is of the same quality in all the cables that are manufactured by the same firm. Now you are thinking about the place where you can get the most long-lasting welding cable. The answer is zw-cable.
Where to buy cheap cable for your welding plant?
When it comes to buying cheap cable; a question arises that if I buy the cheap cable I must have to trade off the performance of the cable. Yes, this is natural. You always have to choose between these two factors.
zw-cable is a platform that provides the best quality at affordable prices. You can buy cable for your welding plant or industrial machinery at a low price while you do not need to compromise on quality as well.
Uses of welding cable
Welding cable is used as the secondary voltage-resistance cable for the tools used in the welding. It is also used as a power cable. It is usually attached to generators and heavy industrial machinery.
It is used in electric arc-welding to provide a secondary power source. In some cases, it is not used to power the generator, it is used for the electrode. It is approved by standards that it can be used in all the applications where the voltage does not surpass 600 volts.
A welding cable is also an appropriate choice for applications of tight battery. It is also feasible to use it in marine applications. If you are going to use it in marine applications make sure the insulation of your intended cable is resistant to water and oil.